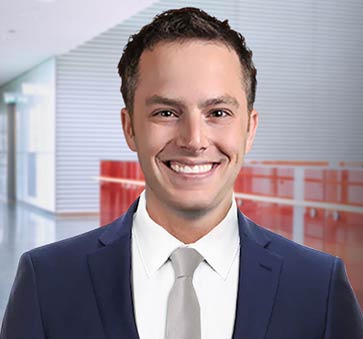 Zachary B. Domont, M.D.
Board Certified Orthopedic Surgeon
Specializing in Adult & Pediatric Sports Medicine
Zachary Domont, M.D. is a board-certified orthopedic surgeon and member of Advocate Medical Group (AMG) Orthopedics who sees patients at his offices in Lincolnshire and Libertyville.
Dr. Domont brings his state-of-the-art orthopedic training in adult and pediatric sports medicine to AMG Orthopedics, offering his patients many of the complex and technically difficult surgeries found only at major university medical centers.
In addition to practicing general orthopedics and sports medicine, Dr. Domont has subspecialty interests in arthroscopic knee, hip, and shoulder surgery. This allows him to perform needed surgeries in minimally invasive fashion, reducing post-operative pain and recovery time.
Pediatric sports medicine (including growth-plate sparing ACL reconstruction and patellar stabilizing procedures), cartilage restoration (microfracture, OATS procedure, osteochondral allograft transplant, autologous chondrocyte implantation), and complex knee reconstruction utilizing joint preservation techniques including revision ACL and PCL reconstruction, realignment procedures, and meniscus transplants represent a significant portion of Dr. Domont's practice. He recognizes that children are not small adults - their bodies recover from sports injuries differently than adults. Well-known for advocating for a collaborative approach (that is, involving patients and physical therapists in a shared decision-making process) Dr. Domont is dedicated to helping patients return to their pre-injury performance level, whether they are recreational or high-level athletes.
Dr. Domont has extensive fellowship-training in arthroscopic hip surgery for the treatment of labral tears, femoroacetabular impingement (FAI), and gluteus medius tears. He is able to treat these painful conditions without making a large, open incision – allowing patients to return more quickly to daily and athletic activity. Much of Dr. Domont's practice is dedicated to using state-of-the-art techniques for joint preservation, attempting to preserve the integrity of the joint as long as possible before joint replacement is needed.
Dr. Domont graduated from Northwestern University Feinberg School of Medicine and completed his internship at Loyola University Medical Center. He then served his residency in orthopedic surgery at Oregon Health & Sciences University in Portland, Ore. Following residency, he completed a specialized fellowship in adult and pediatric orthopedic sports medicine at the University of Pennsylvania and the Children's Hospital of Philadelphia (CHOP), one of only a few such programs in the country which integrate both adult and pediatric sports medicine. While there, he learned specialized techniques to avoid the growth plate in children and is one of the only physicians in Lake County to perform such technically-demanding procedures. While in fellowship, he served as an assistant team physician for the University of Pennsylvania football, gymnastics, and soccer teams.
My Mission
My mission is to help my patients return to the level of activity they were at before sustaining their injury. I recognize that many conditions are able to be fully resolved with physical therapy and other non-operative modalities alone while others require surgery. While my first line of treatment is non-operative in most cases, when surgery is required I always strive to offer my patients the most up-to-date, technically accurate procedure tailored to their specific problem.
Education
Medical School: Northwestern University Feinberg School of Medicine/ McGaw Medical Center
Fellowship: University of Pennsylvania School of Medicine, Sports Medicine
Internship: Loyola University Medical Center, General Surgery
Residency: Oregon Health Sciences University, Orthopedic Surgery
Hospital Affiliations
Advocate Condell Medical Center
Medical Areas of Expertise
Clinical Interests
Arthroscopic Rotator Cuff Repair
Joint Realignment